Air ambulance
When every second counts…
Universally, our Air Ambulance clients select us due to our ability to remove complexity in their non-core competency aviation activities. Put simply, they focus on patient outcomes, we focus on efficiently and effectively enabling that outcome using the aviation assets (fixed wing or rotary) at our disposal.
An exemplar of this is our work with the Scotish Ambulance Service's ScotSTAR team for which, at the end of our current tenure, we will have delivered 30 years of continuous service providing Air, Ground and software services to NHS Scotland.
During near three decades of service we have successfully re-bid three times, each time offering significant additional value back to the tax payers of Scotland.

The first two of three H145 aircraft arrive in the UK
We are pleased to have taken delivery of two out of a fleet of three Airbus H145 helicopters scheduled to begin air ambulance operations in Q1 2020. Having flown from Munich the aircraft are now being fitted in Oxford by Airbus Helicopters as part of the $20 million order.
Two aircraft will be deployed in the customer's yellow colour scheme with the third adopting Gama Aviation's own Grey colour scheme.

Sponsoring the Association of Air Ambulance's 'Air Operations Support Staff Member of the year'
London. On Monday 18th November, the UK's Air Ambulance community will congregate to celebrate the end of National Air Ambulance Week and commence its annual conference and awards evening. The awards recognise the work of fundraisers, clinicians, pilots and support teams to aide some 70 patients a day around the UK, 365 days a year.
Although the helicopters gain the most attention we are keen to recognise the role of the support teams hence our decision this year to sponsor the Air Operations Support Member of the Year.
Good luck to all the nominees and we'll be supporting you all that evening!

ScotSTAR North goes live in Aberdeen
The official opening of the ScotSTAR North facility at Gama Aviation Aberdeen took place on the 24th July 2019. A specialist transfer service aimed at providing expert emergency care for critically-ill patients has been extended to the north of Scotland. Based in our hangar, ScotSTAR North will be on hand to respond to patients involved in serious accidents, and those who are in remote locations.

Flying for Scottish Ambulance Service.
Our Senior Captain Rory MacDonald, discusses what it is like flying the Scottish Air Ambulance and some of his most memorable moments. Rory has been flying our Beechcraft King Air based in Aberdeen for just over 27 years. During this time Rory has been trusted to deliver a fast and reliable service as part of Scotland's National Health Service (NHS).
Extending our SAS partnership
£50 Million Air Ambulance Contract Extension
We are pleased to announce the extension of our seven-year Scottish Ambulance Service contract. The contract extension commences in June 2020 for a further period of three years and is expected to be worth in the region of £50 million over that period.
Pauline Howie, CEO, Scottish Ambulance Service said:
"Gama Aviation have consistently delivered a high-quality service over a near 30-year period and we are pleased to have negotiated an extension to this contract that delivers even greater efficiencies and value for money for the people of Scotland. Gama Aviation's expertise has been central to delivering our mission in a challenging operational environment and we look forward to continuing our strong relationship with the company into the next decade."
Long term partnership support
For over 25 years, the Scottish Ambulance Service, part of Scotland's National Health Service (NHS), has trusted us to deliver speed and absolute reliability. From the Beechcraft King Air we provided in 1993 to the entire Scottish Air Ambulance fleet of fixed and rotary wing aircraft today, we currently perform over 4000 emergency air ambulance missions per year. Our aircraft have dedicated air ambulance cabin interiors designed by us in conjunction with Scottish Ambulance Service incorporating the latest medical stretcher and patient loading systems along with a number of new technological enhancements.
As part of the contract we provide Air Ambulance support for:

check_circle Two Beechcraft King Airs comprising of major and line maintenance & support
check_circle A third, multi-role King Air relief aircraft, with twin Lifeport capability
check_circle Two H145 helicopters*
* Services provided by a contracted third party.
Interested to learn more about of work in this area?
phoneArrange a call back with the team
Vital and timely operational support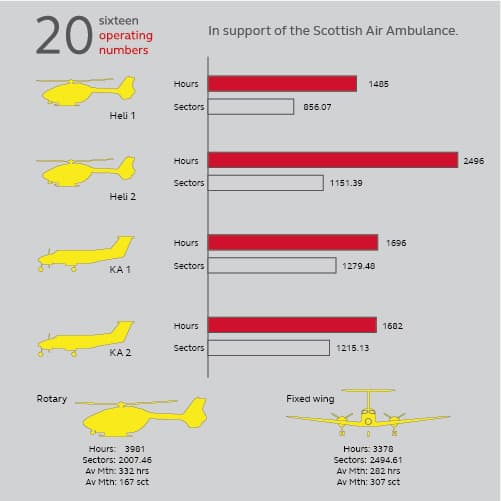 Typical air ambulance support services
Air support:
check_circle Flight crew recruitment & training
check_circle Flight operations & planning
Interested to learn more about of work in this area?
phoneArrange a call back with the team
Glasgow: ScotSTAR
Our £8 million, two hangar facility operates as an MRO and FBO facility servicing fleet operators, with Hangar 2 dedicated to the Scottish Air Ambulance HQ operation

check_circle Hangarage
check_circle Business jet ground handling
check_circle Line maintenance
check_circle Private jet FBO services
Read more about the facility here
Aberdeen: ScotSTAR NORTH
Our newest purpose built facility is at location at Aberdeen International Airport. Aberdeen provides support to the Scottish Ambulance Service, with one of the fleet King Airs being based there. The facility also offers support for third party retail clients, with:

check_circle Hangarage
check_circle Business jet ground handling
check_circle Line maintenance
check_circle Private jet FBO services
Read more about the facility here